Summary:
Well-hung well-built studs in 4 sizzling scenes of hot and sweaty mansex. Not a twink in sight as these real men get down and dirty with obvious relish.
Description / Review:
I wasn't familiar with TitanMen studios before seeing this film but am certain to make their acquaintance more often in the future. If you like your guys to be gym-built (but not overly-muscley) studs who obviously enjoy getting it on with guys similar to them, you'll love this film.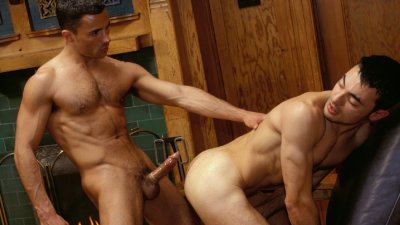 We start with quite a long sequence introducing us to the guys and giving us a taster of what's to come before opening with my favourite scene which features the two youngest guys here - Michael Vincenzo and Ivan Andros (both mid-20s). Cute black-haired six-packed Ivan is leaving his apartment when he bumps into gorgeous slightly-hairy Michael on the stairs. Their eyes meet before several minutes of tonsil-hockey turns into a full on suckfest shot from various angles such as through the stair bannisters. There's a real erotic charge in this scene, with extra frisson added if you imagine the guys could be caught by another neighbour at any moment. Before this embarrassing situation can occur, though, they move upstairs to carry on in front of a roaring fire. Ivan receives a long rimming which features several shots of Michael spitting into his pert arse, before a few fingers are inserted causing Ivan obvious pleasure. Michael proceeds to fuck Ivan in a variety of positions, including a very athletic one with Ivan on his back with his legs virtually over his head with Michael plowing into him from above. We end with 2 great cum shots - Michael spraying droplets into the air and Ivan spurting what appears to be several gallons onto his own chest. If the other scenes in the film were crap I'd still be quite content with just this one.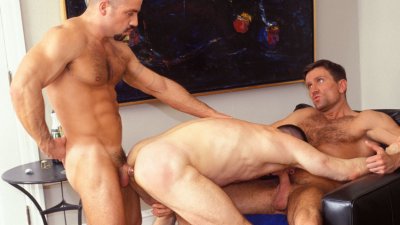 The other scenes certainly aren't crap, though, especially if you like your men slightly older (ie mid-30s upwards). There's a 3some featuring Matt Sizemore (late 30s with hairy chest), Colton Roth (mid 30s with shaved head and a goatee) and John Truitt (mid 30s and the best-built of the 3) in which each guy gets to cum twice. Firstly while Sizemore is sat in an armchair being serviced by his two companions. Then secondly after a great spit roasting of Truitt during which he takes both the others' cocks in turn.
The 3rd scene is another great one, with the impish 28-30ish Breck Stewart making breakfast for himself and boyfriend Bruce Warren - who is a few years older and more defined. They kiss and cuddle for a while before a very horny scene where Warren sprays squirty cream into Stewart's ass crack then licks it all off. Great closeups of Stewart's hairy hole here. We then see 3 different positions of Stewart being fucked over the unit top before Warren cums on him.
The final scene is OK but not up to the standard set by the other 3, featuring Victor Racek (Slavic-looking late 20s / early 30s guy with some body hair) and Marc West, who's in his late 30s with a moustache. They share a shower and Racek gets rimmed before they both wank to climax. Not a bad scene at all, just not as likely to "get the juices flowing" as the others.


The film also features some horny trailers for other TitanMen films and interviews with some of the stars which provide an insight into how the guys prepare themselves for the films they make.
Desire has nothing too complicated, just great-looking buffed and horny guys going at it with each other with obvious enjoyment. Like it.
Features: Oral Sex, Anal Sex, Kissing, Licking, Rimming