Description / Review:
The balls are flying hard and fast - so grab 'em, shoot and score in Playbook, a four-scene salute to jock cock. Diesel Washington, Alex Baresi and Dirk Jager are the team captains, leading the built cast of nine hung studs on an aggressive overtime that takes you behind the scenes of the sports world. Find out what happens after the game is over, the jockstraps are sweaty, and the athletes get more action behind closed doors.
When soccer player Kyle Quinn gets a note from his coach, he heads to the locker room for a private meeting and catches the muscular stud showering. Dirk lathers up his sculpted abs and sniffs a jockstrap, which he then uses to jack off his hard uncut meat. Kyle can't look away as Dirk's incredible body and throbbing cock are framed in the doorway. The coach calls his player in, getting closer as he tries to convince the athlete to stay on the team: "You're a man now. Think for yourself... what do you want?"
What Kyle wants is to take care of his boner, which is soon whipped out as he lies back on the bench as the two stare at each other and stroke their meat. Kyle then opens his mouth to feed on Dirk's cock. The coach holds on to the younger, smoother stud's head, guiding his shaft in and out of the welcoming lips. Dirk beats his cock on Kyle's face, and then offers his balls and ass for licking. The coach straddles Kyle's face, his muscular cheeks and hairy hole ready for tongue attention. Dirk then sucks on Kyle's hard meat before the two jack off.
| | |
| --- | --- |
| | |
Ready for more, Kyle bends over to get eaten as Dirk plants his scruffy beard inside. Kyle moves to the bench where he gets fucked with deep, steady thrusts as Dirk holds the bottom's legs together. The two move back to the doorway, where Kyle takes it doggie style. The bottom strokes his thick hard cock as he gets plowed, showing off his meaty shaft as it gets redder and hotter. A far shot captures Dirk's amazing back side in full view as he fucks - his hands to the side in an impressive display of rock-hard power thrusting that accentuates each gorgeous muscle in his back. A low shot then catches Kyle's stiff cock bobbing with each thrust before they head back to the bench, where Dirk's abs clench as he fucks some more. After he squirts on Kyle's sweaty back, the bottom fires on Dirk's chest.
While doing the team's laundry, toned and tan Leed Scott (sporting a hot dusting of hair on his chest) gets distracted by a dirty jockstrap. One sniff is all it takes for him to get excited, and soon he's stroking his stiff meat. Janitor Leo Giamani slowly makes his way into the room, surprising Leed. "Keep going...", commands the dark-haired Leo. The janitor leans back on a table and unzips his uniform to unveil an amazing sight - a huge, milky smooth muscular chest and a big, thick, straight slab of meat with huge balls resting over his jockstrap. The two watch each other and jack off, and a hot close-up captures Leo's muscular arm (with a bulging bicep vein and a hairy forearm) stroking his massive tool - one of the hottest sights ever.
| | |
| --- | --- |
| | |
Leed then gets on his knees to suck on Leo's cock, with gorgeous side and aerial shots beautifully capturing every slurp. Leed tugs on Leo's sac, causing the beefy stud to moan even more before the two shoot their first loads. Watch as each muscle fiber of Leo's chest, shoulders and arms contorts in a defined display of pleasure. Moving out near the locker room, the two share a quick kiss before Leed bends over. Leo slides his huge tool inside for some deep penetration, holding on to Leed's shoulders as he fucks him from behind. Leed stays impressively stiff as he gets slammed, a low shot catching both hard dicks in one frame.
The action gets even hotter when Leed sits down on Leo in a chair, both of their rods bursting at the seams as they build up juice. Leed bounces up and down, his stomach muscles tightening as he snaps his boner around. The amazing fuck continues with Leed on his back on a table, where he soon strokes out another load. Leo follows suit, with his muscles once again practically popping out of his skin.
Injured athlete Alex Baresi lies on a massage table, where therapist Frank Philipp is ready to teach Xavier St. Jude some techniques. The two masseurs get their hands busy on Alex's hairy, beefy bod, and the turned-on Frank quickly reaches inside Alex's jockstrap and dives down for a kiss. We're then off to the races as the three bearded, hairy muscle studs strip down and whip out their hard cocks. Xavier spits on Alex's ass, licking the bottom who in turn slurps on Frank's big, super thick dick. Unable to hide his pleasure, Alex lets out a never-ending stream of muffled moans. Frank spits down on his meat, the saliva strands dripping down his shaft.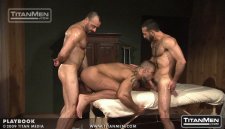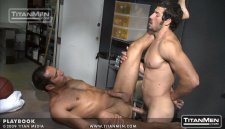 The two therapists then switch positions as super-stiff Xavier gets his red-hot meat sucked while Frank rubs his entire head on Alex's muscle butt. Xavier, his defined body filling the screen, whips his cock on Alex's face and spits down in his mouth before the three douse Alex in cum. Now it's Xavier's turn to be the middle man - he bends over to suck Alex and get pounded by Frank. The top unleashes a fast and furious fuck that has Xavier moaning, and has the bottom's hard-as-steel cock frantically bouncing around with his big balls in an unforgettable display.
Alex soon dives underneath to suck on Xavier's cock, getting the bottom to moan even more as he's pleased from both sides. Watch as the vein on Xavier's forehead pops, his eyes rolling up in his head. Alex then wants a spin on Frank's meat, so he gets on all fours as his mouth is stuffed by Xavier. The bottom gets his body rubbed by both of his buds before Xavier heads back to fuck Frank from behind in a hot fuck train. The three then stroke some more and Frank lets out another wad on Alex's quads, slamming his stiff rod on the bottom's leg with an unforgettable cock-strong sound.
Cute Kameron Scott distracts himself at work with the radio broadcast of a Titans basketball game, but star player Diesel Washington misses the final shot, costing his team the win. The fan soon finds the dejected athlete practicing outside, where they engage in some one-on-one play before Diesel has other ideas. "Come on and hang out with me." Eager to please, the shorter, slimmer Kameron follows his crush to the team's supply room where he quickly shoves a surprised Diesel against the shelves and drops to his knees, planting his face in the star's jock. Kameron gets to work slurping on Diesel's massive meat, his deep-throating skills eliciting moans from the alpha top. "There it is! Aww man!" Diesel whips his cock on the fan's face, cradling the pleaser's head while fucking his mouth. Diesel then proves he can suck with the best of them, dropping down to munch on Kameron's hard pole. Diesel rubs his bud's chest, gurgling as spit drips down his chin.
He then decides he wants another blowjob, and Kameron drops to his knees again before the two squirt. Diesel then takes control again, propping Kameron up against a table, slapping his ass before feasting on the moaning bottom's hole ("Like that tongue?!"). Diesel then orders Kameron to sit down on his cock, fucking him from behind as he calmly directs his bottom into position. Diesel delivers a deep, hard fuck, his hands roaming on Kameron's back and chest. Then the top shows off his amazing strength and agility, picking Kameron up mid-fuck and sliding to the middle of the floor. Kameron locks his legs around Diesel's, and the top then holds on to the bottom's wrists to pound him from behind in a mid-air fuck (easily earning a 10.0 on the Olympic gymnastics fuck scale). Diesel then has Kameron lay on a cooler, propping up his back with a basketball and popcorn bag in an impressive balancing act. Diesel pounds away, causing the cooler to move across the floor. Kameron shoots a hot wad, and Diesel follows suit with a huge stream that lands in the middle of Kameron's chest and stomach.
Bonus features include a behind-the-scenes featurette of some stroking, photoshoot fun, and a few laughs. The bonus footage includes a hot rimming sequence with Leed Scott chowing down on Leo Giamani's muscle butt while stroking the top's big hard cock at the same time. A cumshot collection, trailers and a look at the TitanMen Tool line complete the fun.