Summary:
Cold weather got you down? Let our hottest men get you back up, with Sunstroke- Fun in the Sun Outdoor Fuckfest!
Follow TitanMen exclusives Dean Flynn, Damien Crosse and Jesse Ares as they break a sweat fucking, sucking, rimming and shootin' their loads in this best of film. Damien Crosse fucks twunk Jackson Wild beachside.
If you like your TitanMen rugged, sweaty and fucking in the sun, then this is a can't miss film for you! Directed by the legendary Bruce Cam and Brian Mills, this twelve man, six scene fuckfest will give you Sunstroke its so damn hot! Sunstroke features scenes from Breakers, Dust Devils, Hellions, Intuition, Overheated, and Scorched. (Compilation DVD)
Description / Review:
Scene 1: Breakers: Damien Crosse & Jackson Wild
The sun beats down on two surfers (TitanMen exclusive Damien Crosse and Jackson Wild) peeling off their wetsuits on the beach. Jackson sucks down every inch of Damien's hefty, uncut dick while furiously batting down on his own hard cock as he works himself into a frenzy.
They retreat to a trailer where Damien pounds Jackson's ass mercilessly.
Scene 2: Dust Devils: Dean Flynn & Jock Hudson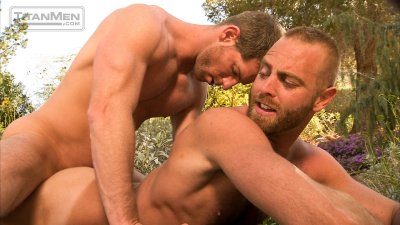 While hiking through the great outdoors, shirtless Dean Flynn and Jock Hudson stop on the path to enjoy the view. But they're quickly distracted with each other as the smooth-chested Dean plants his tongue on Jock's pit. Dean rubs the hairy chest of his bearded bud, whose boner bursts beneath his jockstrap. Soon on his knees, Dean wastes no time working up glorious gobs of spit, planting his lips to the base as he deep throats Jock. Dean's dick pulses in excitement as he sucks; he reaches up to rub Jock's nipple as great side shots capture the action. Jock returns the favor as Dean whips his cock on the sucker's eager mouth: "Stick your tongue out!" Jock deep throats with ease, his scruffy beard bristling against Dean's balls as he licks them. Dean holds on to Jock's head and face fucks him before the sucker returns the favor, the two soon firing their loads. After a kiss, Jock gets pinned down as Dean plows his hole. The bottom's genuine smile gets even bigger as Dean grinds inside, with low shots capturing great penetration. Now on his back, Jock continues to get rammed -- his hot bod caught in a great aerial shot. Dean coats the bottom's hairy stomach before Jock lets out a memorable gusher, a kiss ending the scene.
Scene 3: Hellions: David Anthony & Dean Flynn
Shirtless runner Dean Flynn spots stranger David Anthony on the beach -- and stops to meet the ripped stud, who flashes his cock. The two head to a semi-secluded outdoor shower where they strip down. As the water cascades down their ripped bodies, they stare at each other and stroke before grinding their cocks and kissing. David devours Dean's meat, which gets whipped on his face between deep sucks. Dean returns the favor, gagging as he impressively chugs David's massive cock. David spits down, a wad dripping from Dean's chin as he gasps for air. After sucking on David's low hangers, the two squirt.
Scene 4: Intuition: Jay Roberts & Jessy Ares
After a dip in the pool, the bulging swimsuits of Jessy Ares and Jay Roberts are released for some deep-throat fun -- followed by a passionate fuck that leaves Jay gasping for air.
Scene 5: Overheated: Adam Killian, Cavin Knight & Damien Stone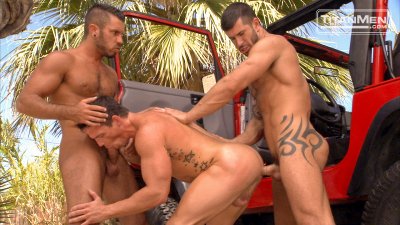 As he waits for Cavin Knight to return to their car, Adam Killian wakes up to the sight of bearded stud Damien Stone. The tattooed Adam soon has his face in Damien's groin, sniffing and teasing the tan and hairy stud's huge cock before wrapping his lips around it. Adam chokes as he works up a spit-dripping mess, soon getting his own big piece worshipped. The two cum, a huge load coating Damien's quad as an out-of-breath Adam buries his face in his bud's chest. A smiling Cavin returns and inserts himself between them, sucking on Damien and getting fucked hard by Adam. With his big balls hanging low, Cavin stays hard as he gets rammed, the veins on his neck and forehead bulging as he feasts on Damien. The three grunt and groan, the two tops soon switching positions. Cavin then sits down on Adam as Damien snaps his boner up while watching. Damien fucks Cavin from behind, sucking on Adam before squirting. Adam gets another crack at Cavin's ass before two more loads end the aggressive action.
Scene 6: Scorched: Gabriel Ross & Travis James
After a dip in the pool, silky skinned Gabriel Ross sits down in the sun and drifts off to sleep. When his eyes open, tall and tan muscle stud Travis James appears through the steam in the distance. The two smile as the smooth Travis approaches the seated cutie, their arms soon rubbing each other. Travis bends down for a kiss, their two monster cocks already at attention. Gabriel slowly strokes his bud, then opens wide and wraps his gorgeous lips around Travis' shaft as the bright blue sky frames their stunning bodies. Turned on my Gabriel's expert sucking, Travis grabs hold of his head and guides it down in a sultry face fuck. As Gabriel deep-throats him, his own uncut beast repeatedly throbs in stiff-as-steel excitement—his lapping tongue soon begging for another kiss.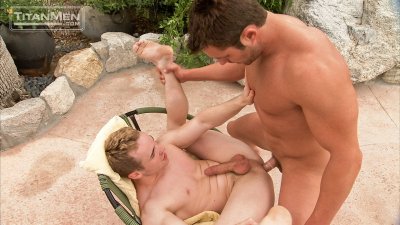 Travis tongues his bud's hole as the two dump their loads. Gabriel then sits down on the top's dick in one of the hottest sequences ever: As the rock-hard bottom rides up and down, the top wraps his muscular arms around him—rubbing Gabriel's chest and stroking his slab. Gabriel turns his head around and the two kiss, completing an unforgettable image worthy of an art gallery as it perfectly captures their intense connection. Travis plows the bottom in two more positions—including a doggie-style sequence where he grabs Gabriel's hair as he begs to get fucked—before the two shoot again as another kiss ends the fittingly scorching scene.