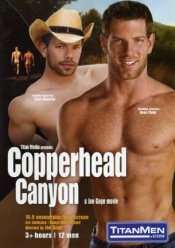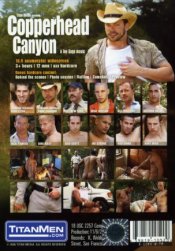 Description / Review:
In TitanMen's Copperhead Canyon from director Joe Gage, Officer Matthew Ford is on the tail of Bill Madison, a dangerous criminal in the backwoods of Colorado.


Description / Review:
Officer Ford doesn't want to take any chances while transporting Bill Madison, a dangerous criminal, back to jail, but when he has to take a piss, he has no choice but to make an unscheduled stop. While they're pissing, they're joined by Luke Riley, a handsome young hitchhiker. Bill uses this diversion to steal Matthew's gun and escape, leaving Matthew and Luke tied up to a tree. As the two shimmy to get out of the rope, Matthew pops a fat boner that Luke is quick to suck down as soon as they've freed themselves. After he shoots a load all over Luke's shirt, Matthew hungrily sucks Luke's fat cock until he sprays a big load all over the officer's uniform.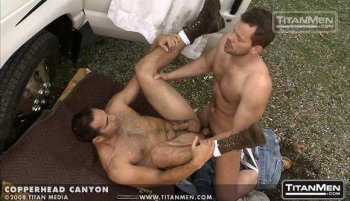 Driving off in Matthew's car, Bill gets on the phone with Dean Flynn, arranging to get an RV from him. After Dean gets off the phone and is done taking a piss, he catches his son's college buddy, Kurt Wild, acting a bit suspicious when he should be working on a project. Turns out Kurt was jerking off into a pair of Dean's stolen boxer shorts. Dean's got a pretty good idea what his son's young friend wants, and so he has Kurt unzip his fly and take his hard cock out of his pants. Unsure at first, Kurt tentatively takes Dean's shaft in his mouth, slowly working up to a fast-paced, sweat-drenched blowjob. After awhile, Kurt lies on his back and Dean deep-throats his long dick to the hilt; before long, they both cum.
But Kurt wants more and Dean is happy to oblige. With Kurt on all fours, Dean buries his face into Kurt's smooth, pink hole while Kurt buries his own face into Dean's stolen boxers. After warming Kurt up, Dean probes deep into Kurt's ass with his cock, towering over him from behind. Dean flips Kurt onto his back to nail him even deeper, and they both shoot again.
Off the side of the road, mechanics Chad Manning and Leed Scott are tuning up Bill's getaway RV. They take a break to work on each other's fat, hard tools. Chad gets the action going by whipping out his fat cock and Leed is more than happy to show him what a proper blowjob feels like. Leed easily sucks a big load out of Chad and afterwards, Chad's glad to return the favor. (After all, "What are buddies for?") Lying on his back on a blanket next to the RV, Chad lubes up Leed's hairy hole with this tongue. Chad's got Leed's legs pinned back while he fucks a load out of Leed, and then quickly follows suit with a load of his own.
Bill's two thugs, Ago Viara and Joe Strong, are outside his RV, keeping guard and waiting for the green light to drive him out of town. Under the shade of the trees, Ago gets diverted by Joe's long, uncut cock which Joe has whipped out and started playing with. Ago whips his out too and the two jerk themselves off until Ago moves in to service Joe's giant cock with his mouth. After enthusiastically sucking it down, Joe bends Ago up against a tree and drills his ass. Joe lays Ago down in the leaves and fingers him until he shoots, then bends Ago over and sprays a hot load all over his ass.
Wolf Hudson and Antonio Milan are a pair of orange jumpsuit-wearing escaped convicts who are making their way through the forest in Pueblo, Colorado. They see Officer Rick Powers approaching, so ditch their jumpsuits, leaving them both naked by the side of the road. Although Rick's hot on their tails, he seems more interested in what they were doing than turning them in.
Antonio drops to his knees and starts sucking Wolf's cock, a convenient distraction. Rick dives in and takes over the sucking, bouncing between Wolf and Antonio's cocks until they both blow their loads all over Rick's chest. After Rick cums, Wolf and Antonio take turns stuffing Rick's ass and mouth with their cocks until all three shoot again.
Seems that there was a GPS transmitter in the phone Bill stole that led Matthew and Luke right to him. When they track him down in his RV, they're eager to settle the score, but first, they want some fun. Luke drops to his knees and sucks down Bill's hard cock while Matthew watches. Before long, Matthew whips his cock out and feeds it to Luke, too. They move inside the RV, where Luke continues to chow down on Bill's cock. Matthew moves on to Luke's tight little butt, burying his face deep into it. Soon, Bill's pounding away at Luke's ass until he fucks a healthy load clear out of him.
Ago and Joe are waiting outside, watching through the window. When Bill and Matthew step out of the RV, Matthew immediately slurps on Joe's massive cock and Ago on Bill's. Matthew bends ago over the stairs of the RV to rim him while Joe tongues and fingers Matthew's ass. Soon, Matthew lowers himself onto Joe's cock and Bill fucks Ago before Joe, Bill and Ago all shoot explosive loads of cum onto Matthew's furry chest.
Additional Information
Categories: UK R18 / XXX Gay DVD, Blu-Ray
Running Time: 161 mins Year: 2008
Price: From around £32*
Starring: Ago Viara, Antonio Milan, Bill Madison, Chad Manning, Dean Flynn, Joe Strong, Kurt Wild, Leed Scott, Luke Riley, Matthew Ford, Rick Powers, Wolf Hudson
Director: Joe Gage
Studio: Titan Media / TitanMen
Buy TitanMen Gay DVDs online at: Simply-Adult.com (UK/EU) and TLAVideo (USA)
Video on Demand / Downloads: TitanMedia See also: www.GayVod.co.uk
Official site: Titanmen.com
Country: US, Language: English
Additional info: No Regional Coding